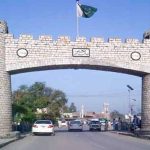 PESHAWAR: Mourning processions in memory of Shuhada-e-Karbala Chehlum were held in Khyber Pakhtunkhwa and Federally Administered Tribal Areas (FATA) amid tight security.
Peshawar police has said that routes of processions and Imam Barahs were declared as clear prior to the processions by the Bomb Disposal Squad. Over 3500 security personnel were deployed in the city to provide protection to the mourners.
Meanwhile, mobile phone service remained suspended in Peshawar and other sensitive cities of the province on the second day today which irked the local people.
Tight security arrangements were also made in Parachinar on this occasion and Pak-Afghan border was closed in the agency for two consecutive days due to security concerns.