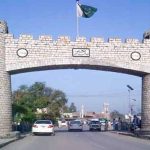 HARIPUR: At least 16 people, including 15 children and a woman, were attacked and injured by stray dogs in Haripur on Tuesday.
The students were on their way to school when the dogs attacked them. 11 injured people were taken to DHQ Hospital, and five were treated at different private hospitals. The victims were given rabies vaccines.
A victim's family member said that his brother was going to school when a 'mad-dog' bit him. He requested Tehsil Municipal Administration to take action against stray dogs.
Dog-bite cases were reported in Haripur three months back as well.