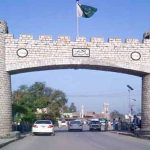 ISLAMABAD: Chinese Ambassador to Pakistan Yao Jing appreciated Pakistan on Thursday for its support amid deadly coronavirus outbreak and expressed to not let Pakistan get affected by it.
Adressing to Belt and Road Initiative (BRI) and China-Pakistan Economic Corridor (CPEC) seminars, he expressed that BRI has emerged as a strong project on international trade cooperation in the past six years and has helped strengthening relations with countries. He added that CPEC is a long-term plan and it has reshaped the relations between China and Pakistan.
On the other hand, Jing expressed that China is working day and night to prevent the life-threatening virus from entering into Pakistan. He added that flight operations between both countries are normal.
He went on to say that the Chinese government is suffering from serious difficulty. He added that Pakistan's support in this tough time is an example of true friendship, and Pakistan is China's strongest friend.
Meanwhile, Chinese diplomat continued saying that the expensive energy issue is also being faced by Chinese traders who are coming to Pakistan but the cooperation in energy sector is increasing due to CPEC. "Government of Pakistan has adopted a policy for ease of business," he said, adding that the international business community is now looking to invest in Pakistan.
Also read: Zafar Mirza reconfirms that no case of coronavirus reported in Pakistan
He expressed that the construction of ports improves the economy of a country, which is why China is working on the Gwadar Port.
National Assembly Speaker Asad Qaiser also addressed saying that the projects like BRI are the backbone of Pakistan's economy. He informed that the social sector has also been included in the CPEC. "With the completion of this project, great economic activities will start in the country," he added.
He further said that China is in an extremely difficult situation right now and Pakistan is ready to help their allies in this period. "The people of Pakistan stand with China," he added.