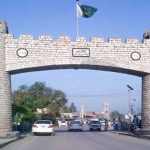 HAINAN: China has lauded Pakistan's efforts for a peaceful neighbourhood.
The appreciation came during a meeting between Prime Minister Shahid Khaqan Abbasi and Chinese President Xi Jinping in Hainan on the sideline of Boao Forum for Asia annual Conference.
The China's appreciated Pakistan's contribution in addressing the challenge of terrorism.
President Xi expressed full support for Pakistan's sovereignty and territorial integrity.
President Xi said that industrial parks will be a new growth path for Pakistan's industrialization.
Prime Minister Shahid Khaqan Abbasi briefed the Chinese President on Pakistan's efforts for successful implementation of CPEC.