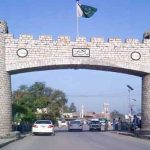 ISLAMABAD: In order to "boost Pakistan's economy", Beijing is investing in multiple sectors and launching business ventures instead of providing loans, Chinese Consul General Long Dingbin said in an interview.
The interview — published on Sunday — was held in Lahore a few days after an attack on the Chinese consulate in Karachi was foiled by the police.
Dingbin said that during Prime Minister Imran Khan's recent trip to China, the two neighbours had signed 15 new agreements which will lead to increased cooperation in politics and the financial sector and will also improve cultural ties.
"Instead of hard cash, China plans to eventually provide multiple forms of bailout packages [to Pakistan] in the shape of phenomenal investments in fresh projects," he said, adding that the investments will help Pakistan "overcome its financial crunch".
He further said that the new ventures that were being launched would broaden the scope of the China-Pakistan Economic Corridor (CPEC).
The Chinese consul general claimed that China would "never leave Pakistan in a lurch" and will provide "maximum resources" to ensure that the latter can strengthen its wavering economy.
In response to a question about Pakistan's crippling debts, Dingbin insisted that CPEC did not contribute to "Pakistan's debt burden".
He said that only four of the 22 projects launched under CPEC provided concessional loans, while the rest were investment-based and would strengthen Pakistan's economy.
Dingbin said that following the attack on the consulate in Karachi, security around the Lahore consulate's building had been increased. He said that a two-tier security mechanism had been developed in coordination with law enforcement agencies and the Punjab government.
Praising the bravery of the policemen who were martyred while holding off the attackers in Karachi, Dingbin said that his country's diplomats were considering setting up permanent donation fund, that would not only provide aid to the families of the martyred policemen, but also help the "deserving people of Pakistan".
Peng Zhengwu, the deputy consul general, who was also present during the interview, praised the bravery of the policemen who were martyred while engaging the attackers, and donated 1,000 RMB (yuan), while Dingbin gave 2,000 RMB.