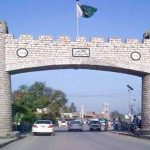 BEIJING: China intends to support Pakistan in the United Nations Security Council (UNSC) over the occupied Kashmir issue, Foreign Minister Shah Mehmood Qureshi said Friday after meeting with top officials in Beijing.
Qureshi, who arrived here in the Chinese capital early Friday to hold consultations with their leadership after India revoked special status of occupied Kashmir, apprised officials in Beijing about Pakistan's concerns and reservations.
In an urgent visit to the ally nation, the foreign minister reached the State Guest House to meet with his Chinese counterpart, Wang Yi, wherein he informed the latter of India's illegal move. The two held talks for two and a half hours.
Speaking to the media following his meeting with Wang in the Chinese capital, Qureshi said Pakistan had decided to go to the UNSC over India's shocking move and that Beijing would fully support Islamabad.
China would maintain full cooperation with Pakistan and the two ally nations' ministers and missions would stay in close contact, he said, adding that Beijing had, once again, proved today that it was Islamabad's trustworthy friend.
The Sino-Pak friendship was everlasting, the minister noted, and that Pakistanis should continue being proud of it. He also stressed that his Chinese counterpart had completely supported Pakistan's stance and agreed that India's move was unilateral.
Such a move had definitely changed occupied Kashmir's status and geography, Qureshi noted, adding that he and Wang agreed that it would prove dangerous to the regional peace and stability.
The Chinese foreign minister also agreed that occupied Kashmir was and remained a disputed matter and that it should be resolved in accordance with the UN's resolutions.
China, Wang added, desired a peaceful solution to the Kashmir issue so as not to let tensions exacerbate. The Chinese officials were informed that India could opt for another move like the Pulwama attack.