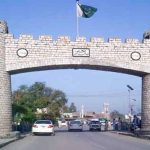 LAHORE: Chinese Consul General Long Dinbin expressed China's support for Pakistan in the fight against the coronavirus.
Speaking at a meeting of the Primary Joint Working Group on Chinese Security in Lahore, the consul general said China will continue to provide all kind of technical assistance to Pakistan.
The meeting discussed various steps to improve the security of Chinese nationals working on China-Pakistan Economic Corridor (CPEC) and other projects.
As per the directives of Chinese President Xi Jinping, China is providing medical equipment, protective gear and medicines to Pakistan to help contain the spread of the virus, he added.