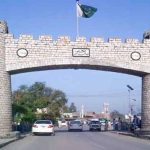 RAWALPINDI: Chief of Army Staff General Qamar Javed Bajwa on Tuesday met with China's Assistant Foreign Minister Kong Xuanyou on Tuesday, said a statement released by the Inter-Services Public Relations (ISPR).
Matters of mutual interest were discussed in the meeting, which was also attended by newly appointed Chinese Ambassador to Pakistan Yao Jing.
The visiting dignitaries also acknowledged and appreciated Pakistan Army's contributions for peace and stability in the region, added ISPR.