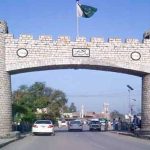 GILGIT: Affectees of Diamer Basha Dam met the Chief Justice of Pakistan Justice Mian Saqib Nisar today (Tuesday) during his visit to Gilgit Baltistan.
They presented application to Chief Justice that their land was acquired for construction of dam but they have not yet been awarded compensation and requested that concerned authorities may be directed to release the compensation.
The Chief Justice assured that their issues will be resolved in accordance with law.
Moreover, He visited different areas of Gilgit Baltistan including Naltar, Hunza, Altit Fort, Baltit Fort and Attabad Lake and was warmly welcome by locals.
They also discussed their issues with him and presented applications to redress their grievances.