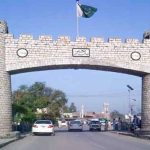 ISLAMABAD: Chief Justice of Pakistan Justice Saqib Nisar has ordered Air Blue management to pay compensation to families of passengers, who died in the crash of its airliner in 2010.
He issued these orders while hearing a case in Islamabad today regarding nonpayment of compensation to the families of the victims of three air crashes including Air Blue crash of 2010, Bhoja Air crash of 2012, and PIA crash of 2016.
The court also imposed a fine of 50,000 rupees on Air Blue for not submitting its response to the court on time.
The counsel of Air Blue told the court that all but six of the tragedy's victims have been compensated.
Meanwhile, the federal government, submitted a report regarding Bhoja Air plane crash.
The report stated neither the airplane was certified to carry passengers nor was the crew trained to handle emergency situations such as analysing rough weather.
Bhoja airliner had crashed while landing at the Benazir Bhutto International Airport, killing all 146 passengers and six crew members on board.
The Bhoja Air's counsel told the court that all the victims had been paid; however, the affectees' counsel drew the court's attention towards the fact that one of the accused nominated in the tragedy's FIR is out on bail.
The court said that cases against those who are out on bail should be decided within a month.
The Counsel for PIA told the court that all the affectees' families have been compensated except for one, who has filed a lawsuit against the national carrier.