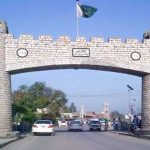 LAHORE: Chief Justice of Pakistan Justice Saqib Nisar while hearing the suo moto case of fee hike in private medical colleges and universities on Wednesday, has summoned Punjab governor's son after listening arguments of lawyer.
The directives were issued as a lawyer informed the two-member bench of the court that she received threats calls from owners of medical colleges and the son of Punjab governor when she complained about the massive fee hike.
The chief justice remarked that he would see if the Constitution allowed him to summon the Punjab governor or not.
He then proceeded to summon the son of the governor.
The chief justice observed that he came to know every medical college has its own merit, adding that he was told before that fees as much as Rs 642,000 were being charged to students.
However, he remarked that today, he has been informed that even more than 0.9 million rupees were being taken by medical colleges.
The chief justice ordered to shift the medical colleges' fee hike case to the Supreme Court.
He remarked that the Supreme Court will decide the procedure and free structure of the medical colleges all over the country and the owners will be bound to follow the directives.