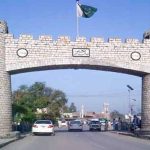 QUETTA: Chief Justice of Pakistan (CJP), Justice Mian Saqib Nisar on Friday scolded the Young Doctors' Association (YDA) of Balochistan to work before making demands.
The CJP made these remarks while hearing suo moto case regarding the protest and demands the YDA, SC bench consisting of the CJP and Justice Ijaz ul Ahsan.
The bench had also summoned Chief Secretary Balochistan and President YDA today.
During the proceedings, Chief Secretary told the court that the doctors were doing politics under the garb of protest for demands.
He said that each doctor is receiving Rs. 24,000 stipend which is going to be increased by Rs. 4,000.
Also, the order of recruiting 571 more doctors have been issued and 500 doctors will be recruited on contract basis as well.
President YDA complained that doctors in other provinces were receiving as much as Rs. 60,000 stipend, upon which, the CJP retorted that the stipend has to be commensurate with the economic position of the province.
The CJP asked the Chief Secretary to sack those who indulge in petty politics.
He also scolded the young doctors to perform their duties and show results before making noise for demands.