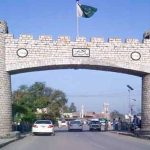 ISLAMABAD: Chief Justice of Pakistan (CJP), Justice Mian Saqib Nisar on Tuesday took suo motu notice of the Lahore High Court's (LHC) order imposing ban on transmission of anti-judiciary speeches by former prime minister Nawaz Sharif, his daughter Maryam Nawaz and others.
According to details, the Supreme Court will conduct hearing on the notice later in the day while a notice has also been sent to Pakistan Electronic Media Regulatory Authority (PEMRA).
Besides PEMRA, the court sent notices to Nawaz Sharif and Maryam Nawaz to plead their cases and directed the Attorney General to inform the two about the summons.
The apex court also sought details of the LHC's decision banning the anti-judiciary speeches.
Let it be known that LHC on Monday imposed ban on transmission of anti-judiciary speeches by Nawaz Sharif, Maryam Nawaz and other leaders of Pakistan Muslim League-Nawaz (PML-N).