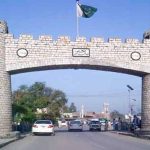 LAHORE: In an apparent reaction to withdrawal of security protocol, Maryam Nawaz, the daughter of former prime minister Nawaz Sharif, said that if anything happened to Nawaz Chief Justice of Pakistan Mian Saqib Nisar will be responsible.
In a tweet, Maryam said: "My Lord! Take away the security of the prime minister who looked straight into the eyes of terrorism and flushed it out." "God forbidden, if anything happens to him you will be responsible," she tweeted.
Meanwhile, Inspector General of Punjab police retired Capt Arif Nawaz informed the Supreme Court on Saturday that extra security protocol provided to influential individuals, including politicians, has been withdrawn.
The provincial police chief submitted a report to a two-judge bench of the apex court, headed by Chief Justice of Pakistan Mian Saqib Nisar, during hearing of a case pertaining to withdrawal of unnecessary security protocol provided to high-profile personalities.
In the report, he submitted that 4,610 people had been provided more than the required security. Acting on directives of the court, extra security had been taken away from 297 politicians, 527 civil administrator and police officials, 469 judges, 54 media persons and 23 lawyers.
The chief justice directed the IG to provide security to those individuals who are entitled to it as per their policy in order to prevent any untoward incident because of inadequate security.
While appreciating the IG Punjab, Justice Nisar directed him to submit a complete report on withdrawal of security from influential individuals within two weeks.