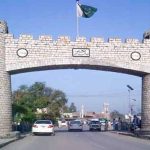 In an important decision just before the election for the seat of Punjab chief minister, the Lahore High Court on Friday barred the Punjab Police from entering the Punjab Assembly (PA)۔
According to the court orders, now the police could only enter the provincial assembly's building when asked to control the deteriorating law and order situation.
PA Deputy Speaker Dost Muhammad Mazari had yesterday (July 21, 2022) written to the authorities, seeking deployment of the Force saying pandemonium was feared during the assembly's session.
He went on to say that even his life was in danger.