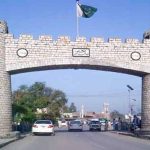 PESHAWAR: Khyber Pakhtunkhwa Chief Minister Mehmood Khan has directed completion of the Peshawar Safe City Project within stipulated time.
He has directed the Home Ministry and Planning and Development Department to enhance coordination and cooperation to ensure implementation of the plan in letter and spirit. He said this project is of paramount importance to ensure security in the metropolis. He said all the problems related to the project will be resolved and funds will be made available for timely completion of the project.
During the previous meeting on Safe City Project, the chief minister directed the concerned authorities to present final plan of the project and start implementation on priority basis. A follow-up meeting on implementation of the project was chaired by Mehmood Khan at the Chief Minister Secretariat on Saturday. KP Chief Secretary Saleem Khan, Additional Chief Secretary Shahzad Bangash, Chief Operating Officer Lahore Akbar Nasir, CM's Principal Secretary Shahab Ali Shah, KP Police chief Muhammad Naeem Khan, Home Secretary, CCPO and other officials attended the meeting.
A detailed briefing was given during the meeting on the Safe City Project. The meeting was told that a central command and control system will be set up at Sharqi Police Station. Security on internal and external routes of the city, rallies, gatherings, government buildings, educational institutions, hospitals, religious places, road crossings, important installations and sensitive places will be monitored from the central system. The central system will initially monitor sensitive places and it will be extended to other places gradually.
The meeting was told that 940 sites have been identified for monitoring where 3,500 cameras will be installed, including 2,300 fixed cameras, 700 PTZ cameras and 500 face-recognising cameras. The PC-1 and documentation of the project will be completed within next six weeks after which practical work on the project will be initiated. The project will be completed in two years. The project will include four main departments including emergency response system, integrated intelligence counter surveillance system, intelligence traffic management system and electronic evidence management system.
An emergency call centre will be set up for the citizens which will be responsible to immediately contact concerned departments like Rescue 1122, Fire Brigade, police stations, district administration etc. in the event of any emergency.
The chief minister said this project will help in maintaining law and order in Peshawar and it will be extended to divisional headquarters in future.