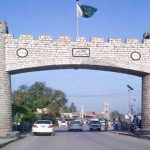 KARACHI: Citing security threats, Sindh Chief Minister Syed Murad Ali Shah on Monday has approved the transfer of eight anti-terrorism courts to the Central Prisons.
Chairing a meeting to review the law and order situation in the province, the CM said due to deteriorating law and order situation bringing terrorists to and from the ATCs in Clifton is dangerous and directed the concerned to move the courts inside Central Prisons Karachi.
Last week, several terror incidents including the deadly Sehwan suicide bombing last Thursday killed over 100 people and injured over 300. The law enforcement agencies sprung into action after the series of blasts during which scores were killed and apprehended.
The federal government too is making frantic efforts to revive military courts. When these powers ended in early January as per the sundown clause of the 21st constitutional amendment, it seemed that most stakeholders do not feel the need to extend this authority as the threat of terrorism had substantially subsided due to relentless campaign against terrorists over the past two years.
But the recent gory episodes have completely changed its mind and it is now pushing the parliamentary parties to arrive at a consensus sooner than later.