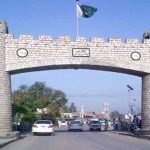 KARACHI: Chief Minister of Sindh Syed Murad Ali Shah is expected to approve the summary extending the Rangers' special powers in Karachi for 90 days, according to sources.
The special powers, once approved by the chief minister, will grant Rangers special policing powers in the metropolis. The summary to extend the powers of the paramilitary force had been sent to Syed Murad Ali Shah by the home minister and the chief minister is expected to sign the summary today (Thursday).
The Rangers were given extension last on October 16, 2016 by Murad Ali Shah. Under the Anti-Terrorism Act of 1997, Rangers have been granted special powers to raid and take into custody suspects.
The issue of extending Rangers' powers has been met in the past with controversy as well, during Syed Qaim Ali Shah's stint at the chief minister. The issue has often triggered a public spat between Interior Minister Chaudhry Nisar Ali Khan and members of the Sindh government.
Media reports had claimed that Murad Ali Shah was miffed at the raids on offices of Anwar Majeed, an associate of former President Asif Ali Zardari, on the day the latter returned to Pakistan.