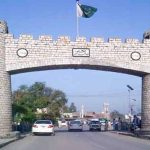 QUETTA: Another lawmaker of Balochistan Assembly, belonging to Pakistan Muslim League-Quaid-e-Azam (PML-Q), Sheikh Jaffar Mandokhail has tendered resignation.
Mandokhail is visiting Saudi Arabia to perform Umrah and has confirmed the resignation through his spokesperson observing that he stood with his party and fellow members.
As many as six legislators of the provincial assembly have so far resigned from their posts over "issues' with chief minister (CM) Sanaullah Zehri.
Let it also be known that a total of 14 lawmakers of Balochistan Assembly have filed a no-confidence motion against Zehri.
On the other hand, leaders of Jamiat Ulema-e-Islam-Fazl (JUI-F), Awami National Party (ANP) and Balochistan National Party-Mengal (BNP-M) convened a joint meeting to review the prevailing political situation in the province.
Earlier in the day today, PML-N president Nawaz Sharif branded the resignations a conspiracy to influence Senate elections.
CM Zehri telephoned the PML-N chief and ex-premier seeking his help in the issue.
According to reports, CM Zehri told Nawaz Sharif that JUI-F was part of the conspiracy being hatched against them.
Meanwhile, Prime Minister (PM) Shahid Khaqan Abbasi asked JUI-F Chief Maulana Fazlur Rehman for help regarding the no-confidence motion against Balochistan Chief Minister (CM) Sanaullah Zehri.
According to details, the JUI-F chief advised the premier to resolve the issues of his own party, Pakistan Muslim League-Nawaz (PML-N), in Balochistan and asked him that why he has approached JUI-F after four and a half years.
Maulana Fazlur Rehman maintained that PML-N itself pushed Jamiat Ulema-e-Islam- Fazl towards opposition in the province.
It is worth mentioning here that former deputy speaker Mir Quddus Bizenjo had tabled the motion with signatures of 14 members which created a rift within the Balochistan coalition government.