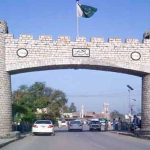 RAWALPINDI: The Control of Narcotics Substances (CNS) court on Saturday handed life imprisonment to PML-N leader Hanif Abbasi in ephedrine quota case. Hanif Abbasi who was contesting elections against Awami Muslim League chief Sheikh Rashid from NA-60 (Rawalpindi).
The court announced its verdict after concluding trial in the ephedrine quota case.
Abbasi was taken into custody by Anti-narcotics Force from the courtroom soon after the judgment was announced. The supporters of PML-N leader did try to hinder Abbasi's arrest and offered some resistance.
The PML-N leader will not be able to contest the upcoming general elections following the narcotics court's decision.
The ephedrine case surfaced in March 2011 when the then federal minister Makhdoom Shahabuddin told the National Assembly that the government would investigate the alleged allocation of 9,000 kilograms of ephedrine to two pharmaceutical companies — Berlex Lab International and Danas Pharmaceutical Limited.
According to the rules, a company cannot be allocated more than 500kg of the drug, a limit fixed by the International Narcotics Control Board (INCB).
The Anti-Narcotics Force (ANF) registered a case in June 2012 against nine suspects, including Abbasi.
He was charged with the of misuse of 500kg of the controlled chemical which he obtained for his company, Gray Pharmaceutical, in 2010. However, instead of using it as medicine, he was accused of selling it on to narcotics smugglers.
On June 11, 2018, Justice Ibadur Rehman Lodhi of the Lahore High Court's Rawalpindi bench had ordered the judge of the special court that was hearing the case to announce its verdict by July 21 — four days before the July 25 general elections. The trial court was also directed to hear the matter on a daily basis from July 16 onwards.
Shahid Orakzai, the petitioner in the case, had filed objections to Abbasi's candidature, but the returning officer, as well as the appellate tribunal headed by Justice Lodhi, dismissed them.
The SC on Friday had rejected a plea filed by Abbasi requesting the apex court to overturn the LHC directives to conclude the trial by July 21.