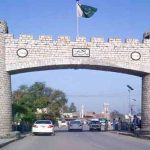 GWADAR: Pakistan Motor Rally 2017, which started on October 31 from Khunjrab culminated at Gwadar on Tuesday night.
General Qamar Javed Bajwa, Chief of Army Staff (COAS) along with Chief Minister Balochistan Nawab Sanaullah Khan Zehri and former Chief Minister Balochistan Dr. Abdul Malik witnessed final segment of the rally and distributed prizes to various participants, said an Inter Services Public Relations statement here.
Speaking on the occasion, the COAS appreciated spirit of organizers, participants and the supporters from across the country. He said "Pakistanis are peace and sports loving resilient nation thus bound to rise despite all challenges." Motor rally is vindication of Pakistan's progress towards peace and stability. Every Pakistani from Khunjrab to Gawadar was committed to peace and progress of the country, the COAS remarked.
He said that Balochistan's progress was Pakistan's progress, adding the CPEC would be truly successful when it lifted Balochistan to its rightful place. Pakistan Army would extend full support and assist the socio-economic development of Balochistan by the government, General Bajwa added.
A large gathering of local population, civil and military officials were present on the occasion to witness the concluding event.
Earlier, on arrival, the COAS was received by Lt Gen Asim Saleem Bajwa, Commander Southern Command as host organizer of the event.