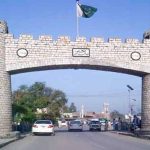 RAWALPINDI: Army Chief General Bajwa has poured in his deepest condolences over the death of Ameer-e-Tablighi Jamat Haji Abdul Wahab and has paid tribute to him for his services for the religion.
According to details, DG ISPR Major general Asif Ghafoor, in his tweet, said that the Chief Of Army Staff has shown utmost empathy over the recent demise of Preacher Haji Abdul Wahab.
Earlier yesterday (November 18), Tableeghi Jamaat Ameer Haji Abdul Wahab passed away after prolonged illness early on Sunday morning.
Haji Abdul Wahab was going under treatment at a private hospital of Lahore.
The Tableeghi Jamaat Ameer Haji Abdul Wahab was laid to rest amid scenes of mourn and tears.
His funeral prayers were offered after Maghrib prayers at Tableeghi Markaz, Raiwind.
Thousands of people, including Punjab Assembly Speaker Pervaiz Elahi, attended the funeral prayers led by Maulana Nazar ur Rehman.