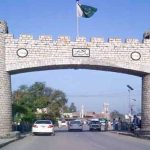 TIMERGARA: Commissioner Malakand Riaz Khan Mahsud has announced ban on all seven steel mills operating in built up zones of district Malakand.
He said that no steel mill can be operated in Malakand except those having compliance with Environment Protection Agency's SOP's.
"These open furnaces are distributing cancer and other epidemic diseases in the community and the administration would not let them compromise on public's health and safety".
Environment comes first, and anyone who is interested to run his industry should install the mechanical unit being suggested by environment protection agency to filter and control emission of hazardous and nitrogenous gases, Commissioner lamented.
He furthered that industry is no doubt key to employment and prosperity, but it does not mean that environmental SOP's to be compromised.
"Malakand is one of the scenic beauties and naturally decorated zone of the division and necessary steps to be taken for protection of this clean and green environment, Riaz Khan quoted.
He maintained that we are trying to shift these industries to industrial estate recently inaugurated by Chief Minister Khyber Pakhtunkhwa Mahmood Khan.
He conditioned operations of steel mills with No Objection Certificate (NOC) to be issued by environmental protection agency.