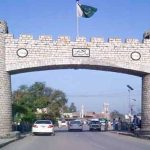 ISLAMABAD: Parliamentary committee on national security has recommended the civil leadership on Thursday to maintain a neutral player in Saudi-Qatar row.
National Assembly (NA) Speaker Ayaz Sadiq presided over a meeting of the committee in the federal capital and discussed Gulf crisis and progress in Kulbhushan Jadhav's case in International Court of Justice (ICJ).
The NA Speaker laid it out after the meeting that the committee has recommended the government to show complete non-partisanship in Saudi-Qatar crisis however, Pakistan would play a role for unity among Muslim countries.
He further said that the committee was told that Facebook and Twitter among social media platforms could not be shut.
Qatar was cut diplomatic ties with last week by Saudi among five Gulf states over alleged support to extremism.
Qatar reacted with fury, denying any support for extremists and accusing its Gulf neighbours of seeking to put the country under "guardianship".
The crisis was likely to have wide-ranging consequences, not just for Qatar and its citizens but around the Middle East and for Western interests.
Qatar hosts the largest US airbase in the region, which is crucial to operations against Islamic State group jihadists, and is set to host the 2022 football World Cup.