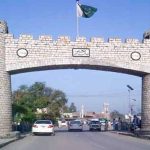 ISLAMABAD: The nation celebrates Pakistan Day today with renewed commitment to work hard for progress and prosperity of the country.
In his message on Pakistan Day, President Mamnoon Hussain said that 23rd March asks us to reiterate resolve to take Pakistan to the heights of glory as envisioned by our forefathers.
He said today, we pay homage to the Father of the Nation Quaid-i-Azam Muhammad Ali Jinnah, Poet and Philosopher, Dr Allama Muhammad Iqbal and the other great leaders of the freedom movement who paved the way for the creation of Pakistan through their valiant struggle, determination and unparalleled sacrifices.
He said the day is a vivid reminder that Pakistan was established through a democratic struggle, and that democracy is key to the continued development and stability of the country.
Prime Minister Shahid Khaqan Abbasi, in his message said, we must think about our past in order to make future planning.
He said that we must analyze our successes as well as shortfalls.
Shahid Khaqan Abbasi said Pakistan came into being through a democratic struggle and its existence, security, integrity, development and prosperity also lies in democracy.
The Prime Minister said we cannot success without upholding the rule of law and supremacy of the constitution.