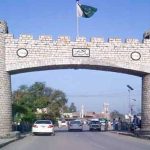 PESHAWAR: Speculations make rounds that names of Mehmood Khan and Shah Farman are also being considered for the Chief Minister (CM) of Khyber Pakhtunkhwa.
According to sources, former chief minister Pervez Khattak has been opposing candidature of former education minister Atif Khan for the slot of CM.
The sources said that Pervez Khattak has suggested names of Mehmood Khan and Shah Farman for chief minister.
"Mehmood Khan or Shah Farman should be made chief minister if I am being not considered for the slot", sources said while quoting Pervez Khattak.
The sources also said that Dr. Haider Ali and Shaukat Yousafzai were under consideration for speaker Khyber Pakhtunkhwa assembly while Mehmood Jan has emerged as the strong candidate for the slot of deputy speaker.