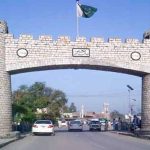 KARACHI: Corps Commander Karachi Lt Gen Naveed Mukhtar on Sunday visited the Karachi Central Jail and Al-Azhar Garden, the spot of Safoora bus attack incident.
Corps Commander met Rangers, army and police officials deployed at the jai. He also met the families of victims of the Safoora bus attack incident.Rangers officials were also accompanying the Corps Commander Karachi.
The Corps Commander said the series of successes against the terrorists is continuing.
He said much progress has been made in investigations into Safoora Goth incident.
The Corps Commander also visited Karachi Central Jail on Sunday morning.
He inspected security arrangements at the prison.
The Corps commander exchanged Eid greetings with Police and Rangers personnel deputed there.
DG Rangers and other high officials also accompanied the corps commander Karachi during the visit.