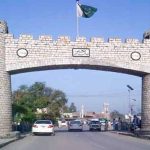 RAWALPINDI: The two-day 254th Corps Commanders' Conference chaired by the Army Chief General Syed Asim Munir, has expressed its commitment to fight against terrorists "without any distinction and eliminate the menace as per the aspirations of the people of Pakistan."
The Pak Army's media wing, the ISPR, said in a statement that the 254th corps commanders' conference was held at GHQ from December 27 to 28, in which the professional and organizational affairs of the Pakistan Army were comprehensively reviewed.
In the key sitting, the military leadership vowed to fight off terrorists indiscriminately and end this menace as per the aspirations of the people of Pakistan.
The military's renewed resolve to fight militancy comes days after TTP terrorists took control of the Counter Terrorism Department (CTD) compound and held its personnel hostage in Bannu and followed by suicide bombing in the federal capital that left a policeman dead and injured six others.
Last month, the Tehreek-e-Taliban Pakistan (TTP) [called off a shaky ceasefire agreed with the government]1[] in June and ordered fighters to stage attacks across the country.
A few days ago, the US embassy in Islamabad barred its staff from visiting the city's Marriott Hotel due to concerns of a "possible attack".
It is pertinent to mention here that the Khyber Pakhtukhwa, which shares border with Afghanistan, has experienced spike in terrorist attacks in the current year after Taliban take control of the Afghanistan, where Tehreek-e-Taliban Pakistan (TTP), anti-Pakistan militants, has taken refuge and continue to direct cross-border attacks from there.
According to data, more than 300 terrorist attacks that include suicide deadly attacks, IED blasts, hand grenade attacks, or target killings, were reported alone in KP.