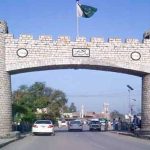 ISLAMABAD: Pakistan Tehreek-e-Insaf (PTI) government and Tehreek–e-Labbaik Pakistan have reached an agreement after successful dialogues.
The protests which continued for three consecutive days are expected to be ended in the hours to come.
The agreement to this effect has been signed by Minister of Religious Affairs Dr Noor ul Haq Qadri and Punjab Law Minister Raja Basharat from the government side.
Tehreek-e-Labbaik Pakistan Patron in Chief Pir Muhammad Afzal Qadri and Central Nazim Muhammad Waheed Noor also signed the document on behalf of their organization.
According to agreement, a review appeal has been filed in the case of Asia Bibi which is the legal right of complainants and government will have no objection on it.
Immediate legal action will be taken on deaths, if any, in the movement against the acquittal of Asia Bibi. The agreement adds that people who have been arrested against the acquittal of Asia Masih from October 30th onwards will be immediately released.
As per the agreement:
A prompt action will be taken to place Asia Bibi s name on Exit Control List,
A review petition, which is the right the complainant, will be filed against her acquittal and the government will not oppose it,
The protesters who were arrested on October 30 and later on will be released soon.
Tehreek-e-Labbaik Pakistan will submit a written apology over their vandalism.
The government s negotiating teams and the Ulema will hold a joint press conference shortly in Lahore.
Earlier, thousands of demonstrators blocked major roads across Pakistan in protest against the acquittal of a Christian woman in a high-profile blasphemy case.
The Tehreek-e-Labbaik Pakistan (TLP) political party, led by Khadim Rizvi, organised rallies in cities across the South Asian country on Thursday, despite a warning from Prime Minister Imran Khan not to "force the government to have to take action".
Aasia Bibi, 53, who was on death row for eight years, was acquitted by the country s top court on Wednesday, with judges saying the prosecution contained "glaring and stark" contradictions.
Shortly after the Supreme Court s landmark ruling was pronounced, Rizvi led a major protest outside government buildings in the eastern city of Lahore, with fellow TLP leaders declaring the three judges who acquitted Bibi to be "liable to be killed".
The sit-in protest in Lahore remained the largest TLP demonstration on Thursday, with other major demonstrations being held in the southern city of Karachi, Pakistan s largest. Protesters were also blockading a major highway into the capital, Islamabad.
Most schools and many businesses remained closed in all three cities through the day, with hospitals on high alert in case the protests turned violent. Highways were partially shut down and the federal cabinet held an emergency meeting to discuss the law and order situation.
Prime Minister Imran Khan, in a televised address to the nation, accused the TLP of attempting to stir religious sentiments for political gains. "I say to these people: do not confront this state … do not damage this country for your vote bank," said Khan. "If you do this, I promise that the government will do its duty … I ask you: do not force the government to have to take action," he added.