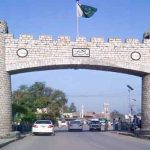 A local court in Islamabad Friday changed the non-bailable arrest warrant for Pakistan Tehreek-e-Insaf (PTI) Chairman Imran Khan into bailable one in the lady judge threat case.
While hearing the appeal for cancelling the non-bailable arrest warrant for Imran Khan, the court also ordered him to submit Rs20,000 worth of surety bonds.
Imran Khan's lawyer Faisal Chaudhry appeared before the court on his behalf.
While presenting his arguments before the court, Faisal Chaudhry's tongue slipped as he said: "Imran Khan appeared before the court before being murdered."
"Before being murdered? What are you talking about? We want every court to be safe for every accused," Judge Sikandar Khan said.
"Had there been no assassination attempt on Imran Khan's life, there would have been no security concerns," Faisal Chaudhry stated.