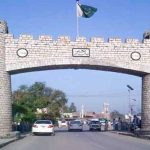 A court in Islamabad on Tuesday ordered of removal of analyst Ayaz Amir  name from the inquiry into Sarah Inam's murder case.
Amir's son Shahnawaz is charged with murdering Sarah Inam on Friday at their farmhouse residence in Islamabad. His arrest came shortly after the crime.
Amir was arrested on Saturday and spent two days in police custody.
He was produced before the court of Islamabad district and sessions judge Judge Amir Aziz on Tuesday.
The investigation officer (IO) requested the court to extend Amir's remand by another five days. He said he had questioned the accused the previous night and it was confirmed that Shahnawaz contacted his parent after the murder.
The IO said that Sarah Inam's father had also arrived in Pakistan.
The judge said that there was no evidence against Ayaz Amir and ordered the police to remove Ayaz Amir's name from the case. He was expected to be released soon.
A day earlier, when Ayaz Amir was produced before the court which extended his physical remand by one day, the analyst and former lawmaker spoke in his defense.
He said that he informed the police of the incident and requested them to rush to the scene.
He said he was in Chakwal — over 100kms away from Islamabad — and learned about the incident over the phone.
Ayaz Amir said he tried to contact the Islamabad police chief but in vain and then informed SP Rural, requesting him to rush to the scene.
When the police arrived at the house, I left for Islamabad from Chakwal, he said.
Ayaz Amir said that there was no mention of him in the FIR but police say that they had nominated him on a statement from the deceased's uncle.
"If there is a charge against me, show me some evidence. The police is holding me under Section 109," he said.
Amir also said that after he learned about the murder he told Shahnawaz's mother to seek help from servants and tie him up with ropes.
He said the police did not ask him any question during the remand but were holding his cellphone for the third consecutive day.