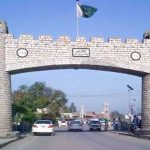 Former prime minister and PTI Chairman Imran Khan has challenged Federal Investigation Agency (FIA) summons for him in the cypher audio leak scandal in the Lahore High Court.
The PTI chief on Monday moved to the Lahore High Court challenging the FIA's summoning of him in a cypher audio leak scandal. He made the federal government, FIA and the investigation officer respondents in the case.
The petition says that Imran is an honest, respectable and renowned personality of the country. He has played an important part to shape the country's politics into a new mold. His growing popularity has become a threat to other political powers.
As prime minister of Pakistan, Imran helped America during its troops' pullout from Afghanistan.
The petition states that the FIA has started an inquiry into the cypher message and has summoned Imran on December 6 to record his statement. But the cypher inquiry has already been challenged in the Supreme Court.
The petitioner is of the view that the FIA has summoned him in a baseless inquiry in order to exact political revenge on him. He said that the gun attack on him in Wazirabad was also part of this political vengeance.
The petition states that no law has been followed while issuing the call-up notice.
The petitioner requested the court to set aside the cypher audio leak scandal inquiry after declaring it illegal and also stop the inquiry till final decision on the case.