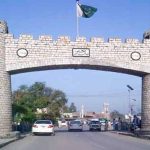 The Afghanistan forces on Tuesday killed a group of Daesh terrorists during operation in Kārte Naw area of Hash district in Kabul.
The operation was launched on the terrorist hideouts, located in the suburbs of Kabul.
As the hideout area had been a crowded place, the raid on terrorists was made with caution.
نن ماښام د کابل اتمې حوزې کارته نو سیمه کې د داعشي خوارجو په يو مهم پټنځای عمليات روان دي، تر اوسه يو شمير یې وژل شوي، څرنګه چې ساحه ګڼ ميشته ده عمليات سوکه او په احتياط پرمخ ځي، دا د خوارجو يو مهم ګروپ ده چې د کابل په وروستيو بريدونو کې يې لاس درلود او خارجي اتباع هم پکې شته.

— Zabihullah (..ذبـــــیح الله م ) (@Zabehulah_M33) February 13, 2023
During exchange of fire between the troops, many of the assailants belonging to the banned outfit had been gunned down.
The forces claimed that the slain terrorists were involved in recent attacks in the Kabul city.
Spokesman of Islamic Emirate of Afghanistan Zabihullah Mujahid tweeted about the operation, launched against the terrorists.