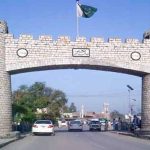 RAHIM YAR KHAN: Three more victims of Rahim Yar Khan trains collision have succumbed to injuries after which, the death toll has escalated to 24.
The initial report revealed that the mishap occurred due to the negligence of station master who gave green signal to the Akbar Express and diverted its direction towards loop line from main track. The driver along with his assistant then pulled brakes and immediately left the cabin.
The report of the is likely to be presented before the provincial authorities today.
On Wednesday, speeding Akbar Express collided with a goods train standing at Walhar Railway Station near Rahim Yar Khan, killing 24 and injuring 60 people. The impact of the collision was so immense that the passenger train's engine and three bogies were completely destroyed.
Pakistan Army soldiers and an army helicopter rushed to the spot for initial rescue operation.
Earlier, Federal Minister for Railways Sheikh Rasheed said Rahim Yar Khan trains accident was being investigated and those involved in negligence would be punished. He said he will hand over his resignation to Pakistan Peoples' Party (PPP) Bilawal Bhutto if felt that he was responsible for the tragic incident.
Railways minister said only solution is to replace old Phatak system with signals, adding that this was first accident during current government's tenure.
He said 79 accidents happened in year 2104-15, 78 accidents occurred during 2016-17 while 67 accidents of trains were reported in 2017-18.
Prime Minister Imran Khan had asked the railways minister to take emergency steps to counter decades of neglect in railway infrastructure and ensure that safety standards are upheld.
Train accidents are common in Pakistan, where the railways have seen decades of decline due to corruption, mismanagement and lack of investment.