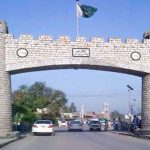 LAHORE: Death toll in Raiwind suicide blast has risen to 11 after an under treatment police official Sabir succumbed to his injuries during the course of treatment in Jinnah Hospital on Friday.
Sources of the Jinnah Hospital have said that Sabir was being meted out treatment but could not be resuscitated adding that two out of eight injured people brought to the hospital were still in critical condition.
Meanwhile; 14 injured have been shifted to General Hospital, three to Sharif Medical Complex and four to Raiwing THQ Hospital where they are under treatment.
On the other side, law enforcement agencies are investigating the blast with completing geo-fence of the site.
They have also dispatched samples of explosives used in the blast to forensic lab.
The agencies have obtained records of all mobile calls made on the day the incident occurred and started search operations to arrest facilitators of the bomber.
On Wednesday, a suicide bomber blew himself up near a security check post outside Tablighi Markaz in Raiwind area of Lahore ahead of an annual religious congregation killing at least five people on the spot.
According to some media reports, Tehreek-e-Taliban Pakistan (TTP) had claimed responsibility of carrying out the attack.