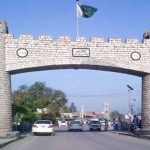 GADANI: The number of those died in an explosion at Gadani ship breaking yard has raised to 17, with fire-fighting still continues at the site.
Yesterday, at least 11 people died on the spot while 60 wounded when a gas cylinder exploded and started a fire inside an oil tanker being broken up for scrap in Balochistan's Gadani area, some 50 kilometres (30 miles) west of Karachi.
All the injured had severe burns.
Local government officials said the ship was still ablaze and there was not enough equipment to extinguish it.
Teams of Pak Navy, Pakistan Air force, Karachi Port Trust and Karachi Metropolitan Corporation have been called for help.
TV footage showed a thick plume of black smoke rising from the ship as local rescue workers rushed to the scene.
Prime Minister Nawaz Sharif expressed his "deep grief and sorrow" over the incident, according to a statement by his office.
Industrial accidents are common in Pakistan, with workplaces often forgoing basic safety measures and equipment in the absence of legislation to protect labourers.