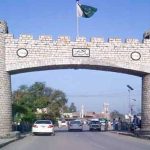 KARACHI: The 10th four-day International Defence Exhibition and Seminar IDEAS-2018 will commence from today (Tuesday) at the Karachi Expo Centre.
Prime Minister Imran Khan is expected to inaugurate the exhibition, according to reports.
The defence exhibition will be attended by 262 high level delegations from 51 countries, officials of the Defence Export Promotion Organization (DEPO) said.
China, Czech Republic, France, Germany, Italy, Jordon, Pakistan, Poland, Russia, South Korea, Turkey, UAE, Ukraine, and US are establishing their exclusive country pavilion at the expo.
IDEAS 2018 has surpassed all previous milestones in terms of space, booking, exhibitors and delegates – domestic and foreigners, and Karachi Expo Centre has been booked to its full capacity with 522 exhibitors from 51 countries, including Pakistan, the officials informed.
Brigadier Waheed Mumtaz, director coordination, Commodore Tariq Mahmood, Air Commodore Tahir Anwar, Brig Ali Ammar Haider from DEPO, Brig Abid Ali Askri, DIGP Traffic East, Javed Ali Mahar, and Zohair Naseer, chief operating officer, Badar Expo Solutions were also present during the brief.
The first two days have been earmarked for delegations, trade visitors and networking activities.
The other highlights of the day include an international seminar on emerging global and regional environment and the role of grey hybrid warfare there in; Pakistan's perspective. Renowned national and international subject matter experts will present their scholarly papers on the topic.
Chairman Joint Chiefs of Staff Committee General Zubair Mahmood Hayat NI(m) will be the keynote speaker.
Another significance of IDEAS 2018 is the holding of exclusive land, maritime and aviation conferences by Pakistan Army, Navy and Air Force respectively which will be hosted by respective service chiefs.
In addition, Nov 30, the fourth day of the exhibition will be exclusively reserved for the general public.