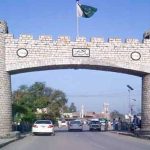 PM, army chief to take parliament into confidence, says interior minister
ISLAMABAD: Defence minister Khwaja Asif has called for national consensus for Zarb-e-Azb like operation against terrorists, saying that at least 100 people were martyred and 220 injured in the tragic Peshawar police Lines terror incident.
Addressing the National Assembly session, the defence minister said that the nation has not forgotten the APS yet as another terror incident happened in the country. The National Assembly offered dua for the martyrs of the Peshawar suicide blast and Tanda Dam boat capsizing victims.
The defence minister said, "two years back were briefed here that peace talks could be held with these people". He said that thousands of people were settled in Pakistan after Afghan war. He called for national consensus for Zarb-e-Azb like operation against terrorists. He said that the national security committee would take decision about operation against terrorist. "We have fought successful war against terrorism from 2010 till 2017. The PML-N had eliminated terrorism during its tenure," he said. He said that the worshipers were neither attacked in Israel nor India.  He said, "we had sold out our service during Afghan war."  The defence minister asked the house to guide government to how tackle the terrorism.
MNA Noor Alam said that 100 people were killed in the Peshawar, but the members of the house are still not serious in debate and chatting with each other. He said that he was topped from entering the Red Zone in Peshawar. How, the terrorist entered into red zone, he asked. He said that army chief should be summoned to the house for policy statement. He also asked the prime minister to come to house and give policy statement.
Interior minister said that the whole country was sad on the Peshawar. "We have fought unnecessary wars of others," he said, He said that intelligence based operations were being carried out against terrorists on daily bases. He said that prime minister and army chief would take the parliament into confidence over terror incidents in the country. He said that resettlement of the terrorists and talks with them was wrong policy.