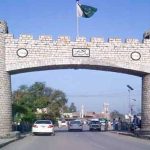 KARACHI: Prime Minister (PM) Shahid Khaqan Abbasi has said that Pakistan Navy was fully prepared and committed to make the defence of our maritime borders impregnable.
He was addressing 108th Midshipmen and 17th Short Service Commission Course passing out parade at Pakistan Naval Academy in Karachi on Saturday.
He said Pakistan believed in peaceful co-existence but our desire for peace must not be construed as our weakness.
He said any unnatural arrangements for supremacy or hegemony in the region would neither succeed nor serve the purpose of peace and prosperity in the region.
Shahid Khaqan Abbasi said that operation Zarb-e-Azb and Raddul Fasaad were not mere operations but a determination to root out the menace of terrorism.
In his welcome address, the Commandant Pakistan Naval Academy Karachi highlighted role of the academy in producing skilled officers.