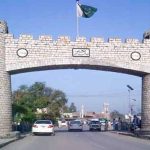 PESHAWAR: The Khyber Pakhtunkhwa (KP) government has instructed to continue development work on the Bus Rapid Transit (BRT) project.
According to details, a letter has been issued to transport secretary and other concerned authorities directing to take precautionary measures against the coronavirus outbreak.
It is not in public interest to halt work on the project, the government said.
It is pertinent here to mention that Pakistan has reported 50 deaths from novel coronavirus while the total number of cases has surged to 3,277.
1,493 patients have been tested positive for the epidemic in Punjab, 881 in Sindh, 405 in Khyber Pakhtunkhwa, 210 in Gilgit-Baltistan, 191 in Balochistan, 82 in Islamabad and 15 in Azad Kashmir.
So far, 257 patients have recovered in the country while 17 are in critical condition.