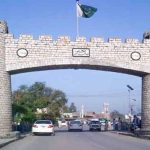 ISLAMABAD: The disgruntled leaders of Pakistan Tehreek-e-Insaf (PTI) on Thursday presented a charter of demands seeking formation of a transparent parliamentary board for the award of party tickets for the upcoming general elections.
The disgruntled leaders presented their demands at a meeting in Islamabad, which was attended by senior party members, including Hamid Khan and others, from Punjab and Khyber Pakhtunkhwa provinces.
They said that some decisions by the [existing] parliamentary board of the party were unjust, adding that the board also had members who had been disqualified or facing inquiries by the National Accountability Bureau (NAB).
The disgruntled leaders demanded formation of a transparent parliamentary board and review of decisions made pertaining to the distribution of party tickets.
They alleged that the PTI's list of candidates for reserved seats for women also comprises of 'favoured' individuals.
The disgruntled party members condemned non-submission of priority list by the PTI for reserved seats for minorities in Punjab. They demanded that the ones, who contested the 2013 general elections, should again be awarded party tickets.
The next meeting of the disgruntled leaders have been summoned on June 26.