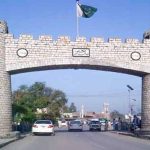 JAMRUD: The militancy-affected Residents of Rajgal vally on Monday staged a protest demonstration against Fata Disaster Management Authority for not registering them as IDPs and depriving them of facilities being given to the displaced families.
The protesters demanded early repatriation to their native towns provision of facilities and compensation amounts for reconstruction of their damaged properties.
The protesters led by Malik Naseer, Malik Zena Gul and other appealed Prime Minister Shahid Khaqan Abbasi and Chief of Army Staff General Qamar Javed Bajwa to register militancy-affected people of Kokikhel tribe as IDPs.
They demanded that the affected people of Rajgal valley should be given all facilities that were given to IDPs of Malakand agency. The protesters chanted slogans against FDMA for embezzling funds meant for IDPs and asked National Accountability Department to audit its funds.
They threatened to stage a protest demonstration outside governor house Peshawar if their demands were not accepted.