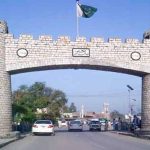 WANA: The district administration of South Waziristan tribal district has banned display of arms, use of tinted glasses and sale of narcotics in Wana sub-division.
According to a statement of the district administration, people using tinted glasses in their vehicles, emergency lights and fake number plates have been warned to stop this practice. Narcotics sellers and those carrying arms have also been warned of action if they did not stop this practice immediately. People of Wana tehsil have also been asked to remove encroachments from the bazaar and streets.
The administration said these directives have been issued keeping in view the security situation in the region. It said the display of arms in the business centres affects trade activities. It said the administration expects the citizens' fullest cooperation in ensuring implementation of this order.
The traders in Wana Bazaar have also been directed to keep the city clean.