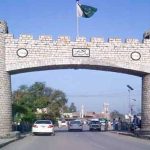 KARACHI: Pakistan Peoples' Party (PPP) Karachi President Dr Asim Hussain on Saturday denied media reports of tendering resignation from the party position.
In an informal conversation with media outside an accountability court here, Asim said he was going out of the country for six weeks for a medical treatment and he did not step down as PPP Karachi president.
However, he said he would do whatever PPP co-chairperson Asif Ali Zardari asks him to do.
Asim's assertion contradicted a statement issued by the PPP on Friday that the party leadership has decided to remove him as president of the Karachi Division, ostensibly due to the latter's ill health and ongoing treatment.
Dr. Asim would be given a new and important position upon his return to the country after undergoing a treatment abroad, the statement issued by PPP earlier said.
Earlier, there were media reports that Dr Asim had tendered a resignation which was accepted by PPP Chairperson Bilawal Bhutto Zardari.
On Thursday, the Supreme Court of Pakistan granted permission to Dr Asim Hussain to travel abroad on the medical grounds.
The top court was hearing a petition filed by Asim through his counsel Latif Khosa when it ruled in favour of the petitioner after directing authorities concerned to remove Asim's name from the ECL.