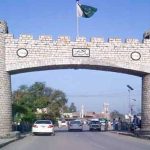 QUETTA: At least 15 people including Deputy Superintendent of Police (DSP) Amanullah and the Imam of the mosque were killed and 19 others sustained injuries in a powerful explosion at a mosque in the provincial capital's Satellite Town on Friday.
As per the reports, the bomb explosion took place when the people were offering Maghrib prayers. The nature of the blast which occurred in Satellite Town' Ghausabad was not immediately clear.
The blast shattered the glass windows of nearby buildings and shops. The sound of the explosion was heard far and wide, causing panic among the people.
Soon after the explosion, security forces and rescue staff reached the spot and shifted the wounded people to local hospital for medico-legal formalities.
Security officials have cordoned off the site of the blast.
In his latest tweet, Inter-Services Public Relations (ISPR) Director General Major General Asif Ghafoor quoted Chief of Army Staff (COAS) General Qamar Javed Bajwa as saying, "Frontier Corps personnel had reached the blast site and were carrying out a search operation along with police."
The tweet further quoted the COAS as saying, "Every possible assistance be given to police and civil administrationand those who targeted innocents in a mosque can never be true Muslim."
Meanwhile, Balochistan Chief Minister Jam Kamal Khan and Governor Abdul Quddus Bizenjo condemned the blast and expressed grief over loss of lives. Jam Kamal directed security agencies to take stringent measures across the province to ensure citizens remained safe and secure.
On Tuesday, at least two people have been killed and several others wounded after a bomb targeted a security personnel vehicle in the southwestern Pakistani city of Quetta.
The attack took place at an intersection near the city s busy Liaqat market on Tuesday evening.
The explosives were packed on a motorcycle, although it was unclear if the attack involved a suicide attacker or if the bomb was planted to go off via remote control or a timer, said police official Mushtaq Hussain.
Quetta is the capital of Balochistan province, the country s largest but most sparsely populated province, rich in mineral resources and the route of much of the $60bn China-Pakistan Economic Corridor (CPEC) project.
CPEC projects focus on transport, infrastructure and electrical power generation, culminating in a trade route that will connect southwestern China with the Arabian Sea through the length of Pakistan. The route ends in a major commercial seaport in the Balochistan town of Gwadar.
In November, at least two security personnel were killed and five others wounded in a similar attack targeting a vehicle, local media reported.