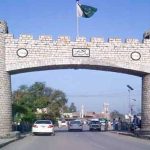 ISLAMABAD: Prime Minister Shehbaz Sharif has appointed senior diplomat Asif Ali Khan Durrani as Pakistan's special representative on Afghanistan.
A notification issued by Ministry of Foreign Affairs states that the Prime Minister Shehbaz Sharif is pleased to appoint ambassador retired Asif Ali Khan Durrani as special representative on Afghanistan with immediate effect.
Asif Khan Durrani had joined the Pakistan Foreign Service in 1986 and has held various diplomatic assignments in Pakistan missions in different countries.