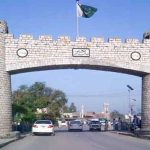 ISLAMABAD: An earthquake on Thursday has jolted parts of country including Swat, Chitral, Islamabad, Rawalpindi and several other cities of Khyber Pakhtunkhwa.
According to details, the tremors were also felt in Peshawar, Malakand, Upper Dir, Abbottabad and Mansehra.
People came out of their homes in panic and started reciting verses from the Holy Quran.
Earlier on September 24, a 5.8 magnitude earthquake rattled Azad Kashmir and other parts of Pakistan.
Several houses, shops and buildings collapsed in different parts of Azad Kashmir, whereas, images obtained from the affected areas showed massive cracks on roads.
Meteorological Department said that according to its assessment, the epicentre of the 5.8-magnitude quake was located near the mountainous city of Jehlum in the Punjab province.
Commissioner Mirpur told media that 40 lost their lives while 680 others were injured in the quake.
He said 172 people are critically injured whereas 1654 buildings received damages. 140 schools, 200 vehicles and 500 animals suffered due to earthquake, he added.