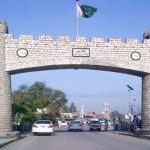 ISLAMABAD: The Election Commission of Pakistan has on Monday admitted for hearing a petition by Pakistan Tehreek-e-Insaf (PTI) challenging the appointment of Maryam Nawaz as Pakistan Muslim League-Nawaz (PML-N) vice president.
A three-member bench headed by Chief Election Commissioner Sardar Muhammad Raza Khan issued notice to Maryam Nawaz and adjourned the hearing till June 17.
The plaintiff had taken the stance that an accountability court declared Maryam Nawaz guilty in July 2018; therefore, she cannot keep any party position. The Supreme Court had also disqualified Nawaz Sharif from the position of PML-N president after the accountability court convicted him, said the petition.
Later, talking to media persons, Parliamentary Secretary for Law, Maleeka Bukhari said Pakistan Tehreek-e-Insaaf believes in strengthening of democracy. Maryam Nawaz does not deserve to keep any post after her stance against the state institutions and courts, she affirmed.