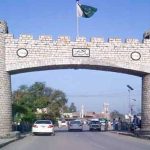 ISLAMABAD: The Election Commission of Pakistan (ECP) on Friday challenged the Islamabad High Court's (IHC) verdict in the Supreme Court of Pakistan, in which the IHC had revoked ban on recruitments in government departments and development activities in constituencies before the general elections 2018.
The election commission submitted a petition before the apex court on Friday challenging the IHC's ruling, which was accepted by the SC for hearing.
The ECP had on April 11 barred the federal and provincial governments from hiring in all institutions, working on development plans approved on April 1 or after it and transferring funds for ongoing projects ahead of the general elections.
The move was aimed at discouraging any pre-poll rigging by using government jobs as an incentive.
Arguing before the IHC bench, the counsel for the provincial governments said that the ECP had usurped the powers of the governments two months ahead of the expiry of their constitutional term.
The provincial governments claimed that the ECP had interfered in the domain of the executive and that its decision had caused inconvenience to the public at large.
The ECP, on its part, defended the ban on recruitment and development activities, saying that it had been done to ensure a fair and transparent election process.
Earlier before the apex court, ECP Secretary Babar Yaqoob said that the commission had imposed the ban on the recruitment to curb pre-poll rigging.