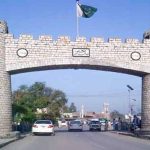 The Election Commission of Pakistan has rejected the invitation made by President Arif Alvi to discuss dates for holding Punjab and Khyber Pakhtunkhwa assemblies elections.
The final decision in this regard was taken at the meeting today (Monday) under the chairmanship of Chief Election Commissioner Sikandar Sultan Raja.
The ECP held a consultative meeting to discuss whether to accept or reject President Arif Alvi's invitation for the consultation of the assembly elections date.
Sikandar Sultan Raja remarked the commission has sent a letter to the presidency and that decision should be considered final.
In a letter written to the president's secretariat, the ECP stated it may not be able to enter into a process of consultation with the presidency, as the matter is subjudice at various judicial fora.
It said a final decision in this regard will be taken at the meeting today.
A day ago, a letter issued by ECP Secretary Omar Hamid Khan to the president's secretary, shared on Twitter, stated that no consultation is possible over the elections to Punjab and Khyber Pakhtunkhwa assemblies with President Arif Alvi. The electoral body was well aware of its constitutional and legal obligations, the letter read.
The ECP secretary informed the president that the commission — following the dissolution of Punjab and Khyber Pakhtunkhwa assemblies — had approached the governors of both provinces for deciding a date for holding the polls. He said the Punjab and KP governors had responded to the letters, but were yet to issue a date.
On Feb 8, President Alvi had written to the ECP to announce the election dates for Khyber Pakhtunkhwa and Punjab assemblies.
In a letter to CEC Sikandar Sultan Raja, President Alvi emphasized the primary duty of the ECP was to conduct fair and free elections as stated in the Constitution.